This Mover & Shaker has officially cracked the code on "Build them and they will build you". He's one uplifting soul filled with positive spirit and creative energy that is without a doubt highly contagious throughout North Delaware. A devoted father & husband, 3rd generation entrepreneur, epic philanthropist and a visionary leader. We are thrilled to spotlight Newark's own, Nic DeCaire as a Top 10 North Delaware Mover & Shaker of 2015.
Owner of Fusion Fitness and Fusion Race Timing, visionary for Newark's Battle of the Bars, Main Street Mile and Newark Police K-9 Fund, Nic DeCaire understands the fullfillment gained from paying it forward both personally and professionally. Nic tributes his giving ways to his father who taught him early on the importance of taking care of your community.
"Throw the stone. Create the ripple. Don't wait for others to do it."   Nic DeCaire
Q&A with Nic DeCaire
NDH: The person who nominated you gave us 3 reasons why you should be nominated as a Mover & Shaker.  Now we would like to hear it from you.  Tell us 3 reasons why you are a Mover & Shaker.
NIC: I'll start off by saying it's hard to say good things about yourself without sounding like you are bragging. But I think one of my strengths is that I'm good at getting people excited about a project. Once I feel committed to a cause, I want other people to get involved too, and I enjoy uniting a group to make that happen. I'm lucky to have a wide network of friends and like-minded people.  Once we commit to doing something, it usually happens pretty quickly. I make a couple of phone calls and we're on our way. And lastly, I'm not afraid to fail. That makes it easy to take a leap of faith.

NDH: For which achievements are you most proud?
NIC: I'm grateful to live in a community and work with great people who support helping others. That makes it easy to do good work.
Earlier this year, I was the recipient of the Jefferson Award from the City of Newark. The award recognized my charitable contributions to the city, including my work with the Newark Police K-9 unit(for which Nic has raised $80,000 since 2007). It's an effort I started when I opened Fusion Fitness Center, and in that time we've been able to raise enough money to purchase three dogs and provide for their care and training. We provide the sole funding for the K-9 unit through the Newark based Battle of the Bars and the Main Street Mile.
My work with Preston's March for Energy opened my eyes to the world of inclusion. I'm proud to be one of the founders of the Inclusion Means Everyone 5K – along with Deb Buenaga – which has brought inclusion to the running community in Delaware and led to our efforts to build Preston's Playground in Newark.
The best part is that I didn't – and couldn't – do these projects by myself. I find motivation and support by working with others. I'm most proud of that.
NDH: Can you share how your involvement has impacted an individual or the North Delaware community?
NIC: My goal every day is to change lives. And I'm lucky to be
surrounded by others who feel the same way. We've held several charity fitness challenges at Fusion over the years that combine some good-spirited competition and also supported local non-profit organizations that have a tremendous impact on our community. Our beneficiaries have included the B+ Foundation, the Blood Bank of Delmarva, Brae's Brown Bags and the Delaware Humane Association.
Together, the Fusion family has raised thousands of dollars that have made it possible for these groups to purchase adaptive bikes, feed the homeless, and help kids with cancer and their families, among others. What's great about our challenges is that they've helped introduce our members to these fantastic programs going on around them.
NDH: Movers & Shakers are visionaries.  What projects are you working on for future achievement?
NIC: I'm fortunate that so many of the projects I work on tend to build on each other. It makes it easy to stay motivated and also keeps me in contact with some great people. That's how it happened with my latest passion project: a 6,000-square-foot inclusive playground to be built in Newark.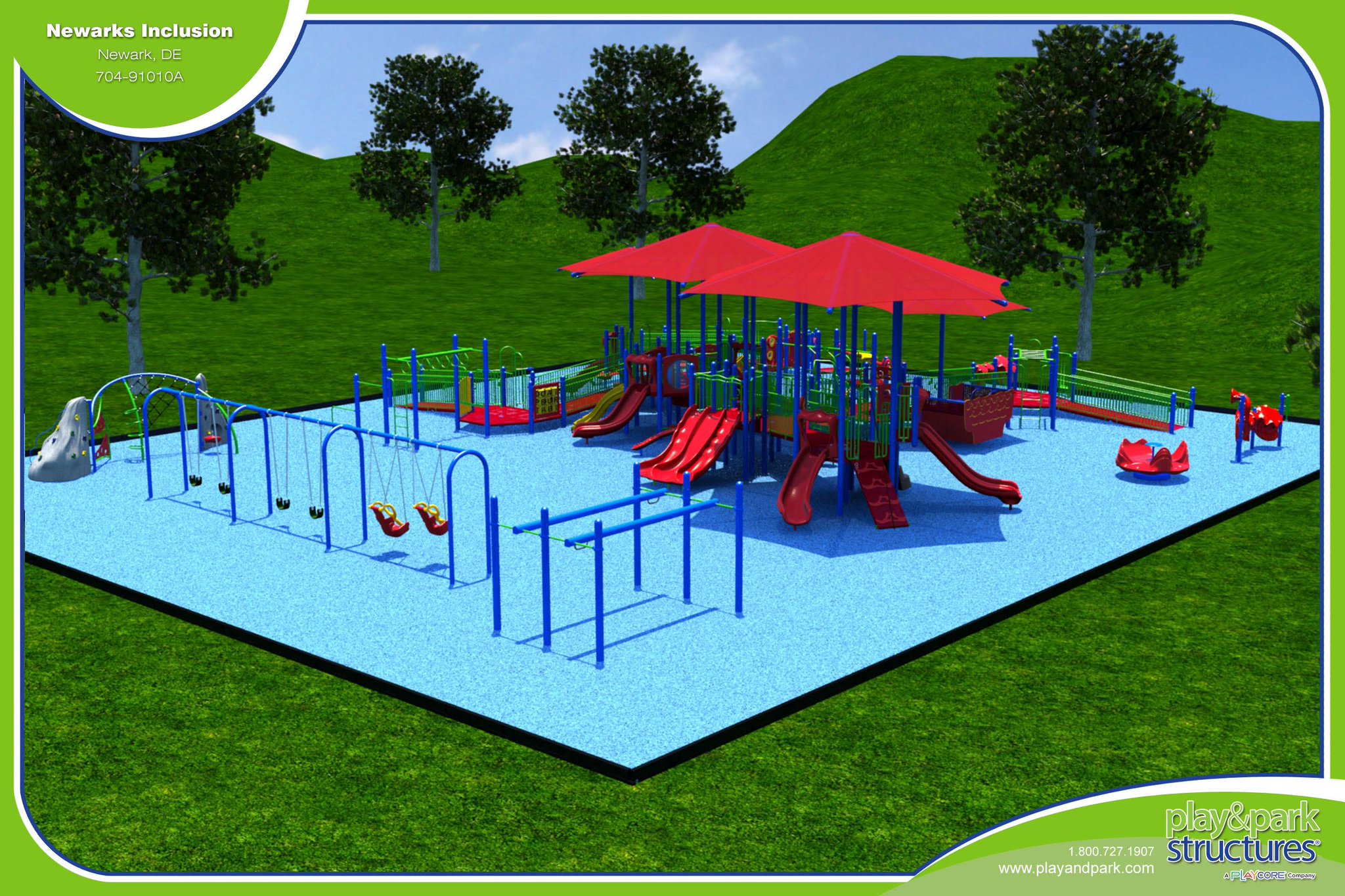 Piggybacking off the success of the first Inclusion Means Everyone 5k, co-founder Deb Buenaga and I had the idea to create a tangible example of inclusion in our community. So what better than a playground? We recently held our second Inclusion Means Everyone 5K at the Christiana Mall to kick off the fundraising for this project. Our goal is to raise $350,000 in the next year to make this project a reality.
While there are other accessible playgrounds in the state, ours will be the first truly inclusive space where the entire playground is accessible, not just parts of it. Kids in a wheelchair or using crutches or braces will be able to travel the whole space and won't be confined to just one area because of mulch or another uneven surface.
NDH: Have you faced any serious challenges along the way that you would like to share?
NIC: One of my biggest challenges – and I'm pretty sure it's not just mine – is time management. Like so many people, I battle the calendar to fit in everything I want to do. It's not easy. I'm still working on finding the best way to give time to everything that's important to me, from the many great causes I care about, the companies I own and of course, my family and home life.
NDH: What local organizations, events or clubs are you currently involved with?
NIC: I try to stay active with the organizations I support. I most actively support Kids with Confidence and the Newark Police K-9 Fund.
NDH: What attracted you to these organizations? Who or what inspired you to get involved in those organizations? And, how did they inspire you?
NIC: You don't have to look far to see the impact these organizations have on their community. Kids with Confidence gives children their childhood back – through their funds, they make it possible for kids to undergo surgical procedures to correct physical differences that might otherwise affect their self-esteem and confidence. Kids with Confidence is my dad's organization. I'm always partial to anything that helps kids, and this organization certainly helps them have as normal a life as possible. It's not easy growing up these days – if we can ease the challenges they face, it's our job as adults to do just that.
The K-9 officers not only keeps the community safe, but they also help keep our human officers safe. A K-9 dog can go into a building where illegal activity is suspected so the officer doesn't have to go in. With the K-9 Fund, we found out there was a need. We really came up with that idea ourselves, and we're glad to see just how big it has grown. There's a real community feel to the Main Street Mile, which supports these dogs and their handlers. I'm inspired by these officers and what they do, so this fundraising is my way of giving back to them.
NDH: Do you have a mentor?
NIC: My dad has been a mentor to me. I watch how he's given back to the community and I've learned about charity through his work. He has taught me the importance of taking care of your community. I've been really lucky to have his counsel.
NDH: Is there anything else that North Delaware should know about YOU?
NIC: I'm a third-generation entrepreneur and father of two kids. I like to get things done. If we see a need, we try and fix it. We don't wait for others to fix it. And I try to get others involved.
NDH: How do you feel about being named as a Nominee of Movers & Shakers in North Delaware?
NIC: It's a privilege to be named a Mover & Shaker. It's so exciting to see so many other people doing great work in the community. Northern Delaware certainly shines a bright light for the rest of the state.
NDH: What's YOUR favorite North Delaware event? 
NIC: OK, I'm a little biased here, but it's the K-9 Battle of the Bars.  It's a very simple, fast event that draws a great crowd. It doesn't take a lot of planning and it brings a lot of money and awareness to the Newark PD K-9 program. We get some friendly competition among the bars and the community sees a different side of the K-9 officers. I look forward to it every year.
NDH: What's your go-to spot for dinner or night life?
NIC: I like to keep it simple. Border Café.
NDH: Any other details you want to share?
NIC: Throw the stone. Create the ripple. Don't wait for others to do it.
If this doesn't get you moving and happy, we're not sure what will! Way to go NIC!
Follow Nic DeCaire & Fusion
Thanks Nic!
For all you do for our North Delaware communities. #lovelocal
A Big Thank You to Budget Rooter, Sponsor of Movers & Shakers 2015.


Budget Rooter was established in Delaware in 1992 by Suzanne & Jeff Palady – a hard-working mother/son team with little more than $500 and a healthy dose of determination & drive.

Their mission?  To provide excellent service at a fair price, to remain committed to the environment and to treat their customers with integrity and respect.

Today, more than 22 years later, Budget Rooter has added 13 employees and is fully equipped to serve the needs of their residential and commercial customers with a fleet of 8 service trucks, 3 high-velocity water jets, and 2 excavators.

Budget Rooter offers truly FREE estimates that are valid for 30 days – there is no pressure and no "selling" when you call.  Need a plumber?  Get a plumber, not a salesman!

For more info, check BR out at www.budgetrooterinc.com